Sold Horses
Rocking Horses that have already gone to their new owners.
Click on gallery pictures to enlarge
---
Indrani ~ Legends Now Sold
A rocking horse by Legends and is relatively new at 15 years and in fabulous condition.
The paint is original and with removeable leather tack would make a fabulous horse for a child or equally would make a wonderful addition for a collector. Standing 48" high it's a stunning horse.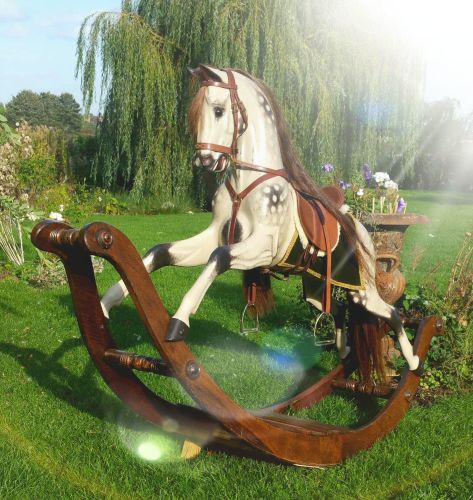 ---
Seducir - F. H. Ayres Seducir ~ NOW SOLD
He is the most beautiful rocking horse by F. H. Ayres circa 1900 and has just been fully restored. With handmade removeable leather tack with fabulous piping detailing, double reins and a Pelham bit he would make the ultimate rocking horse for a child or equally would make a unique addition for a collector. Standing 54" high it's a stunning horse.
---
Corsair - Mayfair by Ringinglow NOW SOLD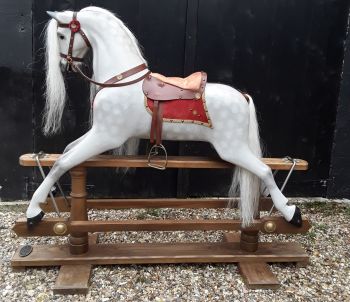 A really lovely almost new horse by Ringinglow in their dapple grey finish, he's 49" high with leather tack and real horse hair mane and tail. In unmarked condition this beautiful horse looks brand new but without the new price tag.
---
~Max ~ Now Sold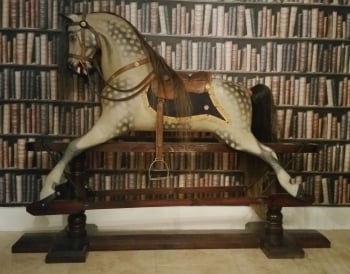 Stunning f. H. Ayres Extra Carved a large 48" high on a heavy cross piece stand. Circa 1880 this horse was completely restored 2 years ago, hes a big chunky horse that sits low on the stad and rocks beautifuly. With original huge glass eyes and wonderful muscle carving and a detailed face including a tongue, he's a beautiful antique horse to treasure.
---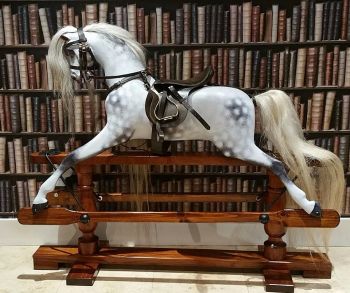 Antonio a 44" newly restored Lines rocking horse. He's had a new stand sometime in the past and has been given new hoof rails in the correct style. New fully removable leather tack and horse hair mane and tail. All ready to rock.
---
~Dexter~ Now Sold
Small J & G Lines swingstand, dating from around 1880-90 standing 34" with some original paint and new tack.
---
~Felix~ Now Sold
A stunning extra carved antique rocking horse, made by F. H. Ayres. Fully restored some years ago but still in fantastic condition, standing 38" high. The stand is all original and he has new tack and real horse hair mane and tail, deep purple suede saddle cloth and co-ordinating rosettes .
---
~Angelo~ Now Sold
A very handsome extra carved rocking horse made by J R Smith in the early 1900's, he has been completely restored with new paintwork and has been given authentic dappling, new hand dyed leather tack and a cow hair mane and tail. His stand has been stripped and polished. More photo's to follow.
---
~Scarlet~ Now Sold
39" high rocking horse made by G & J Lines, with extra carving and finely detailed features, the horse dates from around 1915 and has been completely restored, she has been given new tack in distressed antiqued leather and her stand is original and has been waxed. The paintwork has traditional style dappling with antiqueing, a new wavy mane and tail give this horse a very pretty look.
---
~Brynmor~ Now Sold
Huge and handsome 56" high by F. H. Ayres, if you have the room for a rocking horse the size of a real pony then this is the one, he has now been restored in typical Ayres style dapples with an antiqued finish. New hand-made hand dyed leather tack with a lovely navy suede saddle cloth and matching rosettes, a gorgeous light mane and tail. He has his original glass eyes and the stand is in wonderful condition. He'll make a fabulous focal point to a room or equally a wonderful gift for children to ride and love.
---
~Rumor~ Now Sold
Ayres 'D' type, special extra carved rocking horse. At just over 46" high he is a highly detailed horse, with exquisite carved muscle and tendon definition, carved teeth, tongue and a turned and slightly tilted head. A top of the range horse from the 1930's he has removeable tack and a heavy cross piece stand with fluted hoof rails that are all original.
---
~Barnaby~ Now Sold
A truly wonderful little F.H. Ayres extra carved rocking horse, as elegantly carved as his bigger brothers but in miniature, standing just 35" high. He was a skin covered horse that has been totally repainted over original gesso and given an antique appearance. He retains his original saddle, martingale and his gorgeous flower shaped brass rosettes . The rest of the harness has been replaced and a new horse hair mane and tail. He has 'Whiteleys' stencilled on his stand base proving that he was once retailed from this top class store.
---
~Astrid~ Now Sold
A beautiful large bow horse approximately 46" high with a bow length of 80". This horse has been restored some years earlier and is still in excellent condition.
---
~Merlin~Now Sold
A most unique and beautiful large extra carved F. H. Ayres rocking horse, standing 48" high and dating from the 1930's looking like a glossy liver chestnut, with detailed carving to his neck and legs Merlin also has a tongue, an addition that only the finest carved rocking horses have. He will have a new saddle and saddle cloth in a colour chosen by his new owner as the original one has faded on one side. This horse has the honour of being featured in the book A Kiss of Rocking Horses with photo's before his restoration and was a skin covered horse, at one time a top of the range horse of his day, but his previous owners decided that they preferred polish wood.
---
~Tosca~ Now Sold
Tosca – by an unknown maker this undoubtedly beautiful horse has a magnificent stance, he arrived on a swing stand but looks more at home on bow, Tosca is 47" high and is now on his way to his new home in the US.
An beautiful extra carved antique rocking horse, made by F. H. Ayres c1890. Now fully restored, with new tack and mane and tail he is 40" high and a fine example of an early Ayres horse. Strong enough to be ridden or just admired.
---
~Grace~ Now Sold
A truly elegant rocking horse, made by the very best of rocking horse makers F. H. Ayres, in the early 1900's. Grace has had minimal sympathetic restoration. She has original paintwork that has mellowed to a soft golden sheen, she also has all her original tack apart from new reins and stirrup leathers in carefully matched leather and a new red wool saddle cloth. All the metal rosettes are original, but she did need the addition of a new ear which has been carefully recarved and matched to her paint colour. Her stand has a number six stencilled on the base relating to the size and has been polished.
She is now a superb example of an original Ayres in a very usable size of 48" high. She is solid enough to be ridden, but with care so as not to damage her lovely old leather saddle.
Grace would make a fantastic present for a child or a fabulous addition to a collection and a future heirloom to be passed on down the generations. Grace would certainly add a touch of elegance to any home.
---
~Mahulda~ Now Sold
A lovely bow rocker by J R Smith, dating from around the early 1900's this horse has been the subject of an earlier restoration and has had a new bow sometime in it's life. Very good condition and beautifully restored she is ready for a new home. A good size of 38" high and a bow length of 59".
~Lotti~ Now Sold
A lovely old Smith rocking horse, believed to be one of the rare early horses from around 1880 by this maker. Lotti was over painted and this was removed to real a substantial amount of original paintwork and dappling, this has been restored and missing paint touched in and given an antique finish before being sealed. But she does show her knocks and dents from her many years. She has had a new ear carved as one was chipped off and has new leather tack, red rosettes and saddle cloth and real horse hair mane and tail in wavy blonde. A wonderful horse that would add to any collection although not tall at 44" the horse is big but sits on a low stand, the stand is all original and has just been cleaned and polished and retains a beautiful deep patina, giving a rich colour.
---
~Sir Percy~ Now Sold
A rare and unusual rocking horse, with his distinctive stand and it's half moon shapes near the swing irons, also the unusual brackets he is undoubtedly by the manufacturer Turnbull from the early 1900's. He has all original paintwork that has had light restoration to some damaged and worn areas. Percy stands just 36" high but is very low to his stand making him larger than most horses of his height.
Percy is looking for a retirement home as he has obviously been well loved and been ridden hard over the years resulting in his swing irons becoming loose in their brackets, this has made him less stable than he should be and could result in damage to the inside of his legs if ridden fast, as the bracket ends could knock against his legs. The stand is in great condition, very solid and sturdy and with a good colour, it has just been cleaned and waxed.
---
~Casca~ Now Sold
A beautiful small bow rocking horse that has just been restored and is in immaculate condition, his restoration includes new leather tack and wonderful blonde real horse hair mane and tail. He now has new mane and tail of real horse hair. The bow rocker has been repainted in a soft green.
Casca's true age and maker is unknown but he is an old horse that is beautifully carved with delicately chiselled features including a tongue.
---
Tobias - A very handsome 48" high Ayres circa 1910 Now Sold
He has now had more of a traditional Ayres style paintwork and then his stand has been french polished and he's now ready for his new home. He'll be an excellent horse for a child as he is a very good size for riding for children of most ages.
---
Edward ~ Early bow rocker recently restored Now Sold
These beautiful early bow horses rarely come up for sale and the simplicity in the carving is just lovely. As with a lot of antique bows of this age he is of unknown origin, a couple of larger rocking horses with some similarities have been found though and it could be that they are by the same maker/carver. Edward's exact age can only be guessed at, features discovered during his restoration would put him at early Victorian or possibly Georgian. He has an old square headed nail hole remaining in one hoof, nails were once used to attach horses to the bows in the days before bolts. The other holes are not visible having been replaced by bolt holes, he is now attached to the bow with strong bolts.
Although Edward is very old he would be suitable for being ridden once again by smaller children and has been lovingly restored with the all over oval style dappling of the Georgian period. He has had a complete restoration being stripped back to wood and re-gessoed, then painted. With dark chestnut mane and tail and brown leather tack, rosettes and a coordinating pommel he is very stylish. He has been given an antiqued slightly distressed finish as has his bow, I felt a horse of this age would not look right with pristine paintwork.
---
Major ~ 50" high. Now Sold
A much sought after F. H. Ayres Extra Carved rocking horse, beautifully carved and detailed with a tongue. From around 1910 he's a handsome big horse that sits low on his original stand. Major is just being finished off with leather tack before being fitted to his stand. He has new hoof rails, new ear slices and an eyebrow as well as a tip to a front hoof, he also had 4 small muscle blocks replaced. A flowing grey mane and tail suit his lightly antiqued paint work. Please enquire for more photo's.
---
~ Chilli ~ G & J Lines circa 1890 Now Sold
A beautiful early G & J Lines rocking horse dating from around 1890, a genuine antique, G & J Lines were one of the top rocking horse makers of their time. Chilli has been completely restored, with new gesso, paintwork - with authentic dappling and a cream real horse hair mane and tail together with leather tack and navy rosettes and saddle cloth. He is 33" high and rocks beautifully, his stand has had a new top rail
---
Spirit ~ Huge truly stunning bow Now Sold
Although a 1970 fibre glass horse made by Honeycombe, re-styled he looks every inch a Georgian bow horse, with antiqued leather tack and distressed painted bow, at 52" an amazing horse.
---
Spotti – A 38" Lines Brothers Sportiboy. Now Sold
He had no paint at all when he arrived, so after sanding he needed re-gessoeing before painting. His western style, with a vintage western tooled saddle, saddle cloth, lasso and bridle - all fully removable, suits his appaloosa paint work and adds to his charm and originality.
---
Copyright Rockinghorsesrule 2011 these photo's must not be copied or reproduced without prior permission.